In this ever-evolving world of personal indulgences, having the right gear is paramount. aLeaf understands this and has crafted a collection of accessories that not only amplify your experiences but also add a touch of sophistication to your sessions. In this article, we'll explore some of the must-have accessories from aLeaf that promise to take your sessions to the next level.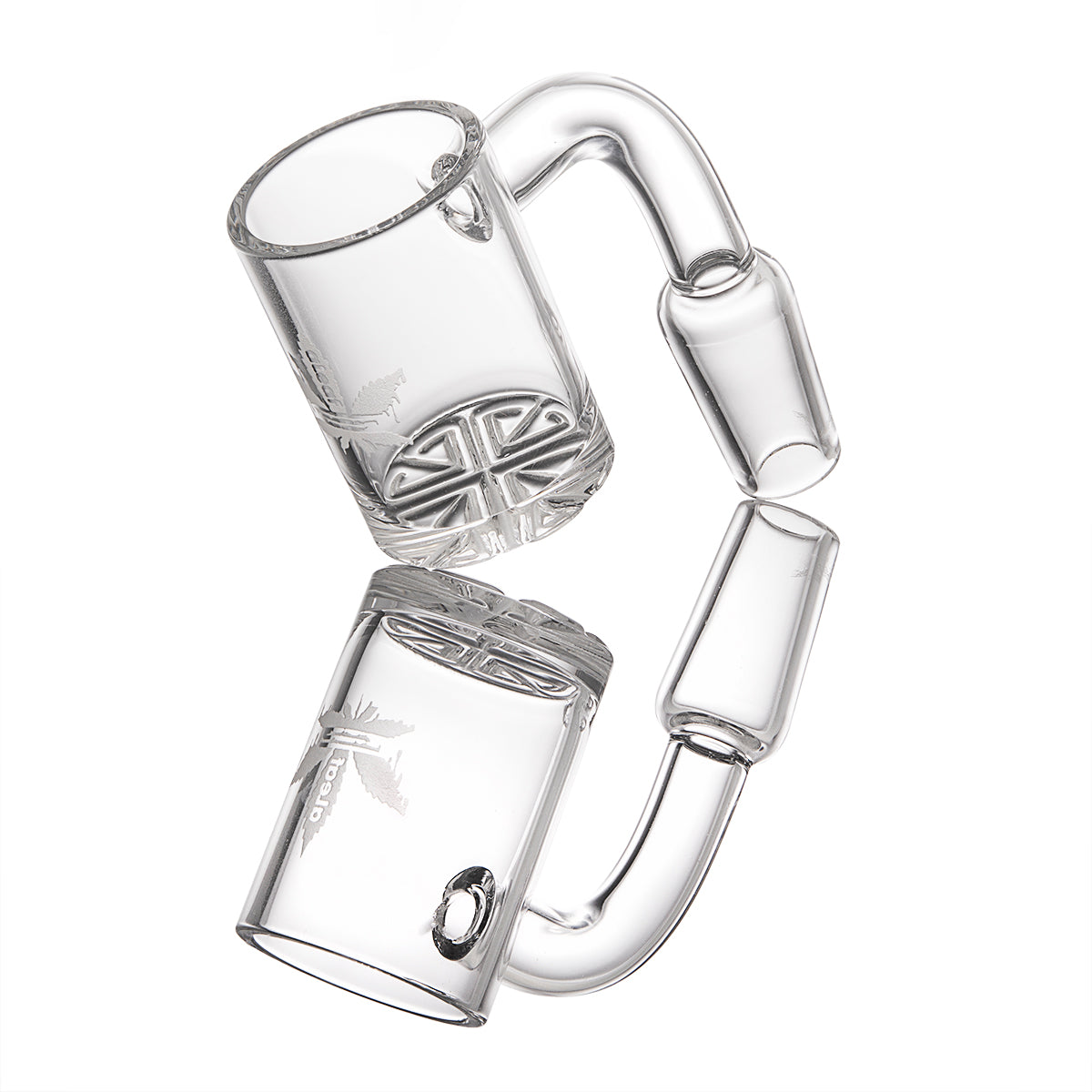 Are you seeking to add a touch of artistry to your dabbing experience? Look no further than the aLeaf Bottom Engraved Banger. This piece is not your run-of-the-mill accessory. It has been thoughtfully designed to take your dabbing game up a notch with its unique engraved design at the base. The engravings are not just aesthetically pleasing but also serve as a conversation starter.
The aLeaf Bottom Engraved Banger is built with 99.9% Quartz material, promising durability and long-lasting performance. It is available in both 14mm and 18mm joint sizes, offering versatility to accommodate your needs. The banger design is clear, letting you witness the magical transformations within.
Our aLeaf Finger Banger is the perfect blend of functionality and innovation, designed with the seasoned dabber in mind. The banger gets its unique name from the finger-like shape and the ability to cap it with your finger, offering an unparalleled ease-of-use.
Beyond its intriguing form, the Finger Banger boasts an extended joint that elegantly takes the heat away from your rig and joint when torching. This thoughtful feature helps to prevent potential heat damage, ensuring that your rig and joint have a prolonged lifespan and continue to deliver optimal performance.
Crafted from 99.9% Quartz, the Finger Banger assures durability and stands up to the test of time. It is available in both 14mm and 18mm joint sizes, making it compatible with a range of setups. The clear color adds a sleek touch to your dabbing gear while allowing you to observe the captivating transformations within the banger.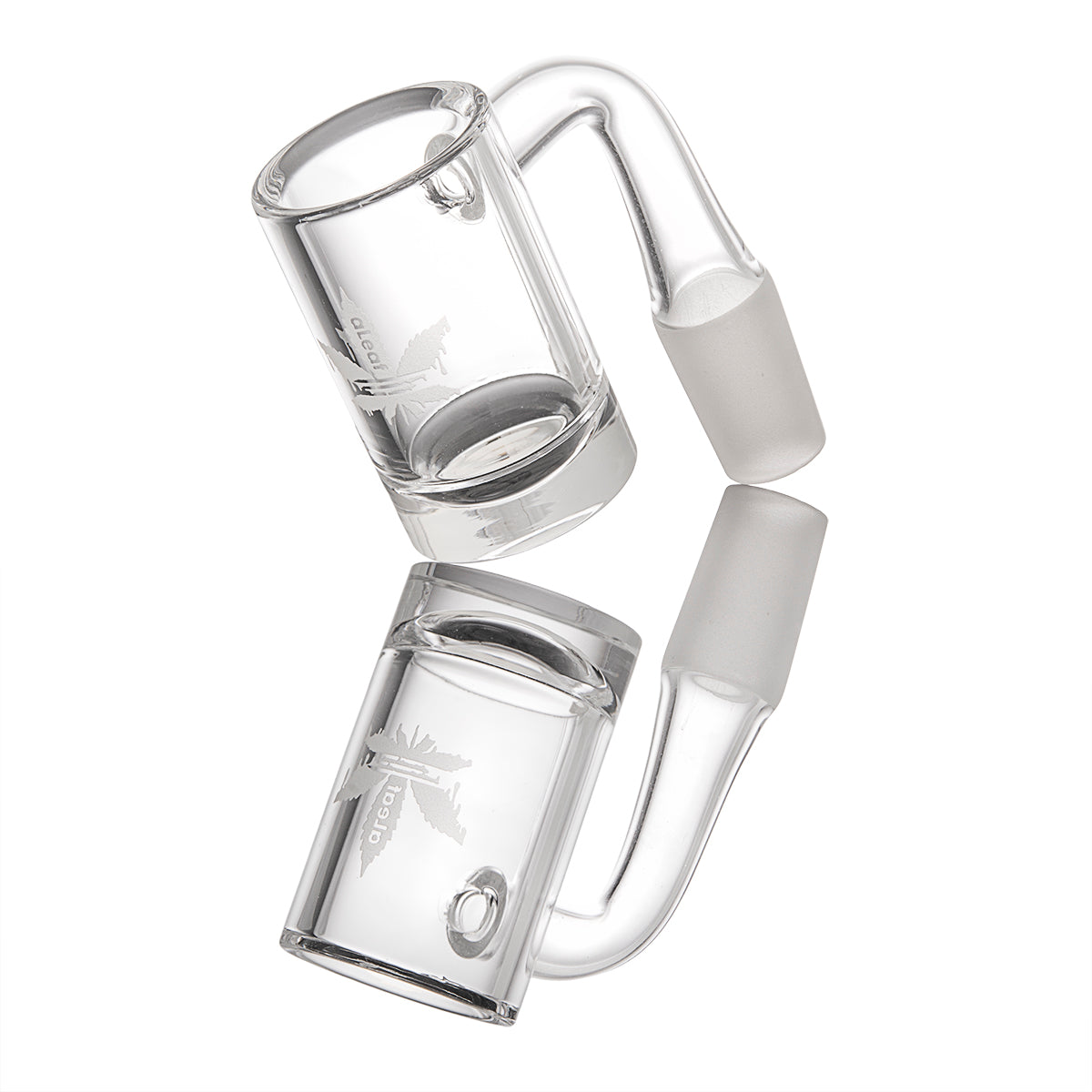 The aLeaf Hybrid Banger takes heat management to the next level. Featuring a round curved bottom, it focuses the heat in the middle where the base is thickest. This design not only helps maintain efficient heating but also extends the heat retention time, ensuring a smoother and more enjoyable dabbing session.
What sets it apart is the use of opaque quartz. This special quartz with micro pores soaks up the heat when torching and slowly releases it, offering longer heat hold compared to solid quartz banger options of equal thickness.
The aLeaf Hybrid Banger is available in 14mm and 18mm joint sizes and is made of 99.9% Quartz, ensuring durability and quality. Its clear color adds a touch of sophistication to your dabbing routine. Experience a more efficient and longer-lasting dabbing session with the aLeaf Hybrid Banger.
Store your concentrates in style with the aLeaf Storage Jar. This 7mm wig wag jar is not just functional but also adds a vibrant touch to your collection with its colorful design.
Crafted for convenience, it comes with a silicon lid that ensures your concentrates are stored safely and securely. This storage jar exemplifies practicality without compromising on style. It's an essential accessory that every concentrate connoisseur must have in their collection. With the aLeaf Storage Jar, keep your concentrates as fresh as they can be while adding a pop of color to your dabbing setup.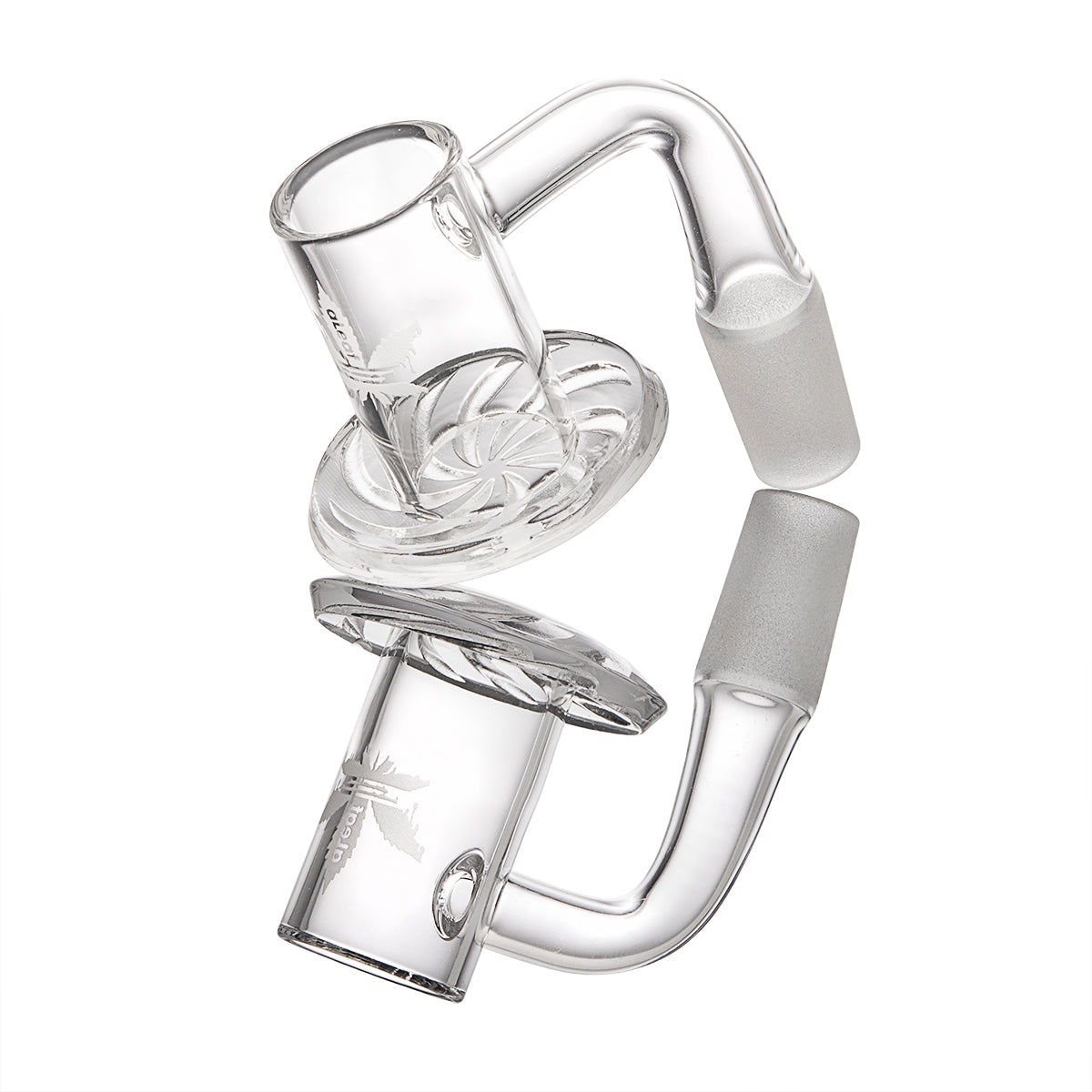 Meet the Tornado Banger, an innovation in the world of dabbing. Crafted from 99.9% quartz, this 14mm/18mm banger is built to last and perform at high levels.
The Tornado Banger stands out with its standard 20mm bucket size, which enables quick heat-up times, making it ideal for smaller or micro doses. But where it truly shines is in its unique design feature - a spinner bottom dish. This addition works like a spinner cap, helping any beads or pearls in the banger spin effortlessly.
Available in a 90-degree angle, the Tornado Banger is the perfect choice for those seeking functionality, performance, and innovation in their dabbing experience. Dab with efficiency and style with the Tornado Banger.
Elevate your dabbing game with our Marble Terp Pearls - Solid. This set offers a vibrant way to personalize and enhance your dabbing experience. Made from Premium Borosilicate Glass, these pearls not only look great but are built to last.
The package comes with three terp pearls of various sizes (1-24mm, 2-19mm, and 1-15mm), giving you options to find what works best for you. They are a fun and practical addition to your dabbing set-up and can be used in combination with various bangers and accessories for optimal results. With the Marble Terp Pearls - Solid, you can bring an element of customization and visual appeal to your dabbing routine.